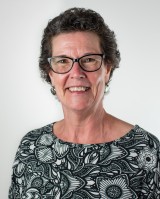 Email
Personal Lines Manager
Direct: 325-340-9928
Carol graduated from Sweetwater High School and moved to San Angelo. She began her insurance career with Holt-Hemphill in 1982. In 2002 Trimble-Batjer bought the Holt-Hemphill agency and she began working for them. Carol is very involved with St Luke United Methodist Church as the chair of the Administrative Board, has been a 4th and 5th grade Sunday School teacher, volunteers with the Youth program, and is a Lay Delegate to Annual Conference.
Carol married Grady Watkins in July 2017 and gained 6 children and 12 grandchildren. They began their small trucking business, GECJ Inc. She also volunteers her time with the American Cancer Society, the American Cancer Society Cancer Action Network, the Concho Country Emmaus Community and at the Daily Bread Soup Kitchen. Carol also serves as the Secretary on the 1st Community Federal Credit Union Board of Directors.
Most of Carol's spare time is spent volunteering. She enjoys time with her husband, children, grandchildren and their 3 rescued fur babies, Ellie Mae, Nylah, and Dexter.